31 Jul 2014
100 books every journalist must read
Publish and Be Damned, Hugh Cudlipp
Your mileage may differ, but I've worked in several newsrooms that were quite parochial — in the sense that most of the people there had little idea how things operated in any other newsrooms of the same size or larger. If that's true, imagine how little most American journalists know about the practice of the craft outside their country. You should at least know what British journalism is like and how it got that way; at least they write the same language. Cudlipp's "Publish and Be Damned" describes his rise and that of the Mirror.
Other voice: Roy Greenslade, The Guardian. "For all his faults, Cudlipp was a towering figure in popular journalism, masterminding the editorial formula that made the Daily Mirror of the 1950s and 60s not only the nation's best-selling daily national paper but one with real social and political clout."
Sledge-hammer headlines appeared on the front-page in black type one inch deep, a signal that all could see of the excitements to come. Human interest was at a premium, and that meant sex and crime.
---
The Red Smith Reader, Red Smith
It could be argued that I have neglected sports writing on this list, but, as Spencer Tracy said of Kathryn Hepburn in "Pat and Mike," "not much meat on her, but what there is, is cherce." Red Smith's 1976 Pulitzer was one of those rare occasions when the jury lifts its collective nose out of the news and opinion pages and realizes there's good stuff elsewhere. The recognition of Smith was long overdue. John Leonard, quoted more below, said Smith "was to sports what Homer was to war." This book collects his best prose poems. (How great was Smith? "To Absent Friends" is a marvelous collection of just his obituaries.)
Other voice: John Leonard, New York Times. "He wrote each column as a sort of short story, with a tantalizer and a punch line. Who could resist an article that described Lefty Grove as 'the only player ever traded for an outfield fence,' or Cliff Mooers as 'the man who bet his tonsil on a horse,' or Red Smith himself who, after catching a trout, 'was down on all fours in a bramble patch at the moment and his mouth was full of wild raspberries'?"
The guy who started the fight thirty-four years ago is around here today to see it finished. His is a big, twinkling old free-style cusser with a plainsman's face, weathered to a bright terra-cotta shade, under a cattleman's soft gray hat. His name is Jesse Harper, and it is he who united Notre Dame and Army in the holy bonds of football, which will be put asunder here day after tomorrow.
---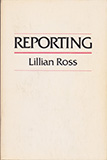 Reporting, Lillian Ross
If you had the time, a strong education in writing could be acquired simply by reading every copy of The New Yorker from its first week. That being slightly impractical, this list includes a few samplings of individual reporters. Here, Lillian Ross. These are long pieces (the shortest occupies 20 pages in my paperback edition) and the author is invisible within them even when writing in the first person. In the introduction, Ross lays out her principles, which are strict and, it must be said, stuffy: "Do not write about anyone you do not like." "If you are on the staff of a newspaper and if what you want is to become a writer, don't stay on the staff for more than two or three years." "Don't show your writing to other writers or ask their opinion of what you write." "Do not go on television to sell yourself or your books." For a mind-bending comparison, read "Reporting" and Tom Wolfe's "Kandy-Kolored Tangerine Flake Streamline Baby" back to back.
Other voice: Matt Zoller Seitz, Slant. "Detractors would call her approach excessive, even punishing. … But there are advantages to reporting at length that do not exist in shorter form: the ability to seem to live with a subject, and observe him not just during dramatic high points, but moments of reflection, even boredom; and to spend time with other people as they describe how they see the subject, and how they believe he sees himself."
'Hel-lo, kid,' [John] Huston said as we shook hands. He took a step back, then put his hands in his trouser pockets and leaned forward intently. 'Well!' he said. He made the word expand into a major pronouncement.
---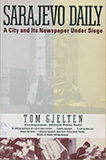 Sarajevo Daily, Tom Gjelten
The Bosnian war of the early 1990s is, I suspect, neither old enough for high school history teachers to get to it nor recent enough to be within the memory of today's college students. The war, one of the bloodier results of the collapse of Communist regimes in Europe, encapsulated almost all of the 20th century's martial causes: ethnic rivalries, religious rivalries, territorial disputes and nation-states fighting via proxies. In the middle of the mess was Sarajevo, where Tom Gjelten was a reporter for National Public Radio. In "Sarajevo Daily," he focuses on a newspaper, Oslobodjenje, whose staff (of mixed ethnicities) went underground during the war but kept publishing. Like "Prisoner Without a Name," this book is on the list to remind American journalists that the craft they pursue can have great value (and perhaps to keep them from whining too much when the office vending machine stops making change).
Other voice: Scott Simon of NPR, naming it one of his "five best" for the Wall Street Journal. "Even though at some points staffers were being paid in cigarettes, they dared sniper fire to bring back stories and to deliver the papers; they lost loved ones and struggled with ruptured friendships across ethnic lines. Just when the dangers of war made it seem impossible to do bold, honest reporting, they learned that it was more necessary than ever to try."
Walking home from Oslobodjenje one day, Vladimir was caught in a mortar barrage. Hearing a shell fired off in the distant hills, he paid no heed; three seconds later the incoming round landed a mere block from him. When Vladimir heard another outgoing round a few minutes later, he immediately ducked for cover; this time the shell came even closer. He started running, only to hear a third detonation in the distance. 'I felt like someone was watching me with a binoculars,' he said. He dove behind a brick wall and covered his head with his hands. the mortar landed on the other side of the wall, knocking bricks loose and throwing up a cloud of dust and debris.
---
Scoop, Evelyn Waugh
It's said that every journalist has an unpublished novel in his or her bottom drawer. Half of those novels, at least, are biting satires of the journalist's own profession. "Scoop" is the paradigm. Through a confusion of names, William Boot is hoisted from "a bi-weekly half-column devoted to Nature" into war-torn Ishmaelia in East Africa. (Stop that Google search and close that tab; "Ishmaelia" doesn't exist.) Waugh draws on his own experiences and builds characters out of correspondents he'd met. (Presumably he had also met native Africans, but in the book they match the prejudiced cliches of the era.) Not only the classic newspaper novel, "Scoop" has also been called one of the best novels ever.
Other voice: Alexander Nazaryan, NPR. "Journalism does not acquit itself well once the clueless Boot reaches Ishmaelia, where the country is already rife with all manner of reporters: strong-jawed Americans, whiny French and cynical Brits. A more seasoned reporter who belongs in the last of these categories explains to the clueless Boot why they are all there: 'News is what a chap who doesn't care much about anything wants to read. And it's only news until he's read it.' With insight like that, who needs journalism school?"
I read the newspapers with lively interest. It is seldom that they are absolutely, point-blank wrong. That is the popular belief, but those who are in the know can usually discern an embryo of truth, a little grit of fact, like the core of a pearl, round which have been deposited the delicate layers of ornament.
---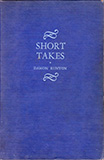 Short Takes, Damon Runyon
You can find several different collections of the "best of" Damon Runyon, New York sports writer, columnist and storyteller. I chose this out-of-print one because it focuses only on his newspaper columns, where he was at least lightly anchored to the facts. The language is less syncopated than in his short stories that led to plays and movies including "Guys and Dolls." Those stories are wonderful. In these columns, though, you see that Runyon didn't need the tricks of those stories — the stilted grammar, the constant present tense — to tell good stories.
Other voice: Baseball Hall of Fame. "Runyon was a moody man who always showed just a hint of a smile. As Fred Lieb recalled, 'you felt he was laughing at the world, not with it.' "
I once knew a chap who had a system of just hanging the baby on the clothes line to dry and he was greatly admired by his fellow citizens for having discovered a wonderful innovation on changing a diaper.
Find on AbeBooks
---
Show Me the Money, Chris Roush
Chris Roush's textbook is the classic background for financial reporting. I don't feature a lot of specialist reporting books on this list. This one's here because knowledge of financial matters is important to almost every beat. And because too many journalists are too afraid of numbers, and books like this give them the tools they need. Textbook note: In addition to the regular link for a new copy of the textbook, I've included a link for used (and considerably less expensive) copies.
Other voice: Bill Barnhart, Reynolds Center for Business Journalism in a review of the 2004 edition. "Roush presents an extensive menu of business reporting tasks — macroeconomics; corporate financial statements and other SEC disclosures; mergers and acquisitions; the stock market and initial public offerings; corporate organization and compensation; private and small businesses; not-for-profit businesses; business litigation; bankruptcy; real estate; regulation and regulatory agencies; and Internet tools for business journalists."
Although reporting and writing in business sections is much better than it was three decades ago, some of it still lacks the contextualization that would help local readers better understand what business means to them. … The chief problem appears to be reporting and editing staffs that do not fully understand business issues and complicated economic topics.
Find in my store | Find on Biblio.com
---
The Soccer War, Ryszard Kapuscinski
It is helpful to remember that journalism exists outside the English-speaking world. Ryszard Kapuscinski is a Polish journalist. "The Soccer War" is a collection of pieces about the many revolutions and wars he's covered. (The title refers to a 100-hour war in Central America started by a soccer game.)
Other voice: Gene Lyons, Entertainment Weekly. "For all its bitter honesty, The Soccer War is as compassionate and oddly uplifting a book about the Third World as one could possibly read. Besides the idiosyncratic brilliance of Kapuscinski's reporting — which comes across nicely in William Brand's brisk translation — the author's self-deprecating sense of humor and his fundamental humanity shine through on every page."
I ask here and there: What's going to happen? Nobody knows. They were told to come, and so they are here. … And then, the surprised face of someone I've accosted: Why are you asking all these questions? … There's Welbeck now: Welbeck will tell us. Minister of State Welbeck, stately and modest in a black Mulsim skull cap, picks up the microphone. Hearing him is difficult, but you can pick up the sense: 'Imperialism is pushing … Nkrumah has been insulted … this slap in the face … we cannot …' Ah, this is serious!
---
The Soul of a New Machine, Tracy Kidder
I was just out of college and in my first full-time job, reporting on small towns and schools in central Michigan, when I read "The Soul of a New Machine." I knew then that it was well-written and unusual in that it made an interesting, even exciting story out of a company trying to get a new minicomputer ready for manufacturing and sales. Kidder has gone on to write several more books employing the same practice of burrowing deep into a a subject, and he's one of the most accomplished of the book-length literary journalists. But what I couldn't have foreseen in 1981 was that, about 20 years later, I would be an editor in a newspaper business section, and having read "The Soul of a New Machine" would make me think about business journalism in a somewhat unusual way. This is a business book, you see, but it's about how things actually get done, not about dollars divorced from labor. There is a general problem with journalism: We talk to owners and CEOs, mayors and senators. We pull in "regular people" for eyewitness accounts of tragedies and to be amused by their uninformed comments on news events. But we don't write about what people experience every day. Kidder does.
Other voice: Evan Ratliff, Wired. "More than a simple catalog of events or stale corporate history, Soul lays bare the life of the modern engineer – the egghead toiling and tinkering in the basement, forsaking a social life for a technical one. It's a glimpse into the mysterious motivations, the quiet revelations, and the spectacular devotions of engineers – and, in particular, of West. Here is the project's enigmatic, icy leader, the man whom one engineer calls the 'prince of darkness,' but who quietly and deliberately protects his team and his machine. Here is the raw conflict of a corporate environment, factions clawing for resources as West shields his crew from the political wars of attrition fought over every circuit board and mode bit. Here are the power plays, the passion, and the burnout — the inside tale of how it all unfolded."
West and Alsing usually went out for coffee in the middle of the morning, but not now.

Alsing poked his head into West's office. 'Coffee, Tom?'

'Go away, Carl,' West replied.

Alsing tried on another day. Without looking up from his worked, West said, in a flat, calm voice, 'Get out, Alsing.'

Alsing sensed that there was nothing personal in these rebuffs, and he found it impossible to get angry at West. After seven weeks, West emerged, the completed design for the IOP in his hands.
---
Sound Reporting: The NPR Guide to Audio Journalism and Production, Jonathan Kern
National Public Radio's news and public affairs broadcasts revolutionized the way radio reporting sounded. Alas, corporate homogenization of the rest of the radio dial has corralled that revolution. This guide will not tell you how to blurt out headlines in between a morning zoo's bleats and belches. If you want to do audio reporting properly, however, this is the source. It covers all forms of news reports and provides not only advice on how to get the news but how to present it. Its discussion of editing audio explains the ethical principles behind the smooth sound of so many public radio stories. (Hear what I mean in this "On the Media" story about its own editing practices.)
As a side note, I wish I'd read this book before I started podcasting for my old paper. The lessons here extend beyond broadcast.
Other voice: Jane Pauley. "I think 'Sound Reporting' ought to be required reading for anyone aspiring to a career in journalism, audio or otherwise. … This is not just 'how to do it,' but how to do it fairly, responsibly, and intelligently."
No one in public radio argues that it's ethical to deceive the listener. What people are constantly trying to define is when deception occurs. After all, the production process necessarily involves a certain amount of manipulation of audio.
---
Comments