31 Jul 2013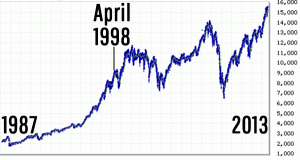 Fifteen years ago, I already knew what would happen to me in 2013. And I have proof.
In 1998, I was the editor of The (Cleveland) Plain Dealer's personal finance and personal tech sections. That included writing a weekly section-front column. Having admitted in my first column that I was not a personal finance expert, I mostly stuck to promoting the section's content and hammering at a no-gimmicks financial philosophy.
So when we had a cover story on April 20, 1998, about planning for retirement, I wrote:
Isn't it your dream to do a little bit better than your parents? To go further in school, to go higher in business?

Me, I want to retire earlier.

After 42 years at the same paper mill, my father retired at 62 — an act he had been contemplating every day, he says, for about 42 years.

I hope to do him a few years better. Not that I don't enjoy my job. Sometimes whole days go by without a thought of quitting. But my dream is to put the 9-to-5 (actually, the 10-to-7) aside in 2013.
Here it is, 2013, and here I am, retired — sort of. I've taken advantage of a severance package The PD put together as part of the reshuffling that merged some of the paper's jobs, the operations of affiliated website cleveland.com and the weekly Sun papers into a new company called Northeast Ohio Media Group.
Not that I dislike what Advance Digital — parent of NEOMG and all the other MGs popping up around the country — is doing to reinvent its operations. I just saw an opportunity to do the same myself. And as that 1998 column indicates, this is something I'd been thinking about for a long time.
But it's only a sort-of retirement. And I saw that coming, too:
[Y]ou could consider training that would allow you to semi-retire – remaining in the work force, but shifting to a job that is less stressful and more in line with your interests. Working past 65 might not seem so awful if it's work you enjoy.

I've got a hunch that the workplace of the future will make that an easier proposition. Maybe I'm wrong; maybe I'll be churning this column out through 2058.

But a guy can dream, can't he?
Yes, Younger Me, a guy could dream. And sometimes dreams come true.
In fact, I only wrote that personal finance column for a few years before moving on to broader responsibilities in the Business section. Then I transformed myself into an evangelist for online reporting, telling my colleagues that our future was digital and we needed to adapt. Turns out I was right about that, too.
The rapid pace of change brought about by the online world's impact on journalism means I'm not yet ready to predict what I'll be doing even five years from now. I have some ideas, but for the time being I hope to explore many alternatives. If you're looking for someone who can talk to your newsroom about how to adapt to online, let me know. Or if you're a freelance reporter who's realized having an editor is a good thing, I rent out by the day. I don't do weddings or bat mitzvahs, but I have done industry conferences and regional seminars.
If you want, I can even predict the future for you. In that same 1998 column where I predicted my own retirement, I also foresaw the approaching end of the go-go stock market:
Realistically, [retirement in 2013] would take 15 more years of success for my stock portfolio, and that's a problem. My favorite indicator, the Contrarian Cubicle Average, is very shaky now.

The CCA says you can't trust the crowd: if everyone in the cubicles around you is optimistic, the future will be hard to bear. The index is flashing out a warning now. Even our personal finance reporter — steady, smart, clear-eyed Miriam Hill — suggested a story about how the market could keep going up without a break.

In CCA terms, that's a red flag – and not the kind that makes a bull run faster.
See? Not bad — and as I said, I'm no personal finance expert. Imagine how much better my predictions are for things I actually know something about. Well, you don't have to imagine. I'll be writing here regularly. Please come back and see how I do.