31 Jul 2014
Books that almost made my list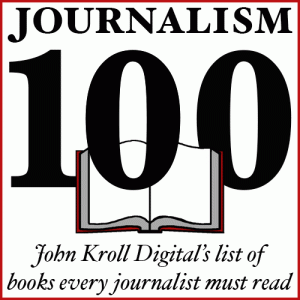 When I started to assemble my list of books that journalists must read, I thought I'd end up with an interesting number like 78. Instead, I kept adding more and more, finally deciding to cut it off at a round 100.
Some books from other lists didn't make mine because I preferred another book by the same author and I wanted the list to be wide-ranging. Similarly, I could make room for only so many books of or about literary journalism.
I love the writing of Mark Twain and Ring Lardner and Dorothy Parker and Nora Ephron, but I think their best work lies outside journalism.
The latest purveyors of journalism jeremiads — Clay Shirky, Jay Rosen, Jeff Jarvis, Ken Doctor, etc. — fall under my policy of not wanting to endorse books that time may prove to be wrong, irrelevant or both.
In addition, there are books that fully qualify for my list but got left out when I trimmed it to 100. The list below includes those, and will probably grow as I revise the list based on feedback.
---
The Art and Craft of Feature Writing, William E. Blundell
Blundell's book is a blunter approach to feature writing than the others on this list, also like "Follow the Story" it comes out of the Wall Street Journal tradition. (Blundell was a reporter and editor at the paper.) He gives shorter shrift to story organization than others, but is strong on individual elements. Chip Scanlan of Poynter recommended Blundell's list of six factors to consider when putting together a story: history (what are the story's roots?), scope (how widespread is the central focus?), reasons (why is this happening?), impacts (who or what is affected?), countermoves (who's reacting to this?) and futures (what could happen next?).
Other voice: Joe Grimm, reporting on a Blundell seminar at the Detroit Free Press: "Writers know that full reporting means going to more than one source. The problem, Blundell says, is that we want to show all this hard work to the reader, and we include everybody. 'In the end, only blood relatives of sources will read the story, and some of them will only say they have,' Blundell says."
By applying extrapolative reasoning, the reporter may be able to infer that beyond the event lies a broader, more significant story. For example, let's inspect that old chestnut, the story about how well the local United Fund drive is going. The piece says contributions are far above targets, and there is much back-patting … But the story fails to note that a big income-tax cut will occur next year. This means peole have a reason to give most heavily now, to get maximum tax deductions. … It further suggests that next year the United Fund people may have to sweat bullets to bring in less.
---
Floating Off the Page, Ken Wells (ed.)
Back when The Wall Street Journal aspired only to be the greatest financial newspaper in the world, its dense gray columns of finance were rarely interrupted by anything so populist as to be called "writing." The main exception was the "middle column," the "A-hed" — long, polished-till-they-glittered stories on any topic so long as it was interesting. "Floating off the Page" is a collection of those stories.
Other voice: Publishers Weekly. "Although there is a heavy emphasis on humor here, readers can still expect to find a smattering of serious subjects, like rescuing otters after the Exxon Valdez oil spill in 1989 or the fate of the mail destined for the World Trade Center after 9/11."
First, pretend that you are a sheep.
---