31 Jul 2014
100 books every journalist must read
Stick it Up Your Punter!: The Uncut Story of the 'Sun' Newspaper, Peter Chippindale & Chris Horrie
Harold Evans' "Good Times, Bad Times" portrays Rupert Murdoch's impact on British journalism from the inside of his most prestigious titles. "Stick it Up Your Punter" focuses instead on the decidedly down-market Sun, a "red-top" — so called for the blocks of burning red ink from which the loudest Brit tabloids reverse-print their names. You may think you know tabloid journalism if you've seen Murdoch's New York Post, but you ain't seen nothing yet. What happened to the Sun may startle you or appall you, but, like the paper itself, it won't put you to sleep.
Other voice: John Lanchester, London Review of Books. "Sex was absolutely central to [Editor Larry] Lamb's idea of what he wanted to do with the Sun – central to the notion of the kind of young reader, bored with propriety and circumlocution, whom he wanted to attract. Features, articles and bogus stories on the subject of sex fountained forth from the pages of the paper: the second issue carried the first ever British newspaper picture of a model with exposed breasts, nipples and all; the third carried, on the front page, the howling headline, 'MEN ARE BETTER LOVERS IN THE MORNING – OFFICIAL'. Lamb hired a team of female journalists, the 'Pacesetters', to write sexy features, like the one about Casanova Girls, which featured an interview with a 21-year-old woman who had had 789 lovers. … The only sex-related subject not permitted in the paper was homosexuality. Murdoch was against it: 'Do you really think the readers are interested in poofters?' "
Murdoch and Lamb, way back in the '70s, had devised the Sun as a paper for the 'television age', realising that the mass audience was spellbound by the medium. The Sun's role had been to provided material such as soft porn, wall-to-wall football coverage and wild political bias, which were absent from British television before its '80s deregulation.
---
Story: Substance, Structure, Style and the Principles of Screenwriting, Robert McKee
"Story" is a bible for the creation of movie screenplays. So why put it on a list of must-read books for journalists? First, because journalism is at its heart two things: finding the truth and telling stories. Elsewhere on this list you'll find books by journalists about how to adapt the techniques of fiction to the truth. "Story" takes you to the source to see those techniques in their natural habitat. Second, because preserving the storytelling function of journalism will be a challenge in an age of listicles. I want to drive the importance of that deep into the minds of journalists. Third, because the vastly expanded palette of storytelling tools that we gain by going online gives journalists the opportunity to tell stories better than ever. Reading a book like McKee's may open your thoughts to new approaches. "Story" and McKee's approach have been criticized (see the "other voice" below) for being formulaic and dogmatic. For purposes of this list, that's not a problem, because the key is that his formulae are different from those you'll learn in journalism school.
Other voice: Jason Zinoman, Vanity Fair, after attending a McKee seminar. "He's been criticized for turning the creative process into a series of rules, but this misses the real problem with his course, namely that the rules themselves are often banal and arbitrary. The emperor here is not naked, but he is showing some skin through his loosely tied robe, and when the subject turns to horror, the silky-smooth garment collapses around his ankles."
A Turning Point is centered in the choice a character makes under pressure to take one action or another in the pursuit of desire. Human nature dictates that each of us will always choose the 'good' or the 'right' as we perceive the 'good' or the 'right.' … Therefore, if a character is put into a situation where he must choose between a clear good versus a clear evil, or right versus wrong, the audience, understanding the character's point of view, will know in advance how the character will choose.
---
Succeeding Against the Odds, John H. Johnson
John Johnson rose from poverty to become a wealthy mogul presiding over an empire of cosmetics and insurance and — most significantly for this list — Ebony and Jet magazines, powerful voices in the African-American community. His autobiography does not betray any false modesty.
Other voice: Clarence Page, Chicago Tribune. "When John H. Johnson talks, people listen. So, when John H. Johnson finally sits down after all these years to write his own life story (with the help of friend and employee Lerone Bennett, Jr., a distinguished author and Ebony staff historian), people have good reason to wonder if it is worth reading. Happily, it is. It is interesting to see Johnson as he sees himself. And it should surprise no one that he sees himself in glorious terms."
Most important of all, and most frightening of all, would I disgrace my mother before her friends? The magazine I published on that far-away November day opened a vein of pure, black gold. And in tribute to the god of November, I made November my signature month. On November 1st, 1945, I started Ebony. On November 1st, 1951, I started Jet. … Today, I own the biggest black-oriented corporation in America.
---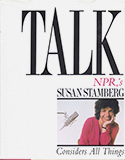 Talk, Susan Stamberg
In the beginning, there was "All Things Considered." It was the first news program on NPR, and as such it established a tone for the network that continues today. And the tone of "All Things Considered" was set, for many of us, by two voices: Susan Stamberg and Bob Edwards. They weren't the first two hosts, but they early and distinctive. This book collects chunks of Stamberg's wonderful interviews. I'd recommend you first seek out her voice online or on the radio, though, so you can hear as you read. You may also want to listen to Stamberg talking about good and bad questions in this clip from the Third Coast Conference.
Other voice: Neil A. Grauer, Baltimore Sun. "Ms. Stamberg's skill as an interviewer in 'Talk' and the astonishing scope of her work shine through, triumphing over the obstacles she faces in attempting 'to catch back [from the air] some of what's been said.' In doing so, Ms. Stamberg gives the reader a smorgasbord of bite-sized morsels that form a substantial intellectual feast. The breadth of her subject matter ranges from interviews with Lord Snowden on photography to Harold Stassen (!) on why he still was running for president when nearly 80."
You [Jimmy and Rosalynn Carter] write that doing this book together is the hardest thing you've ever done in forty years of marriage. Why? I mean, a woman who can offer her husband Life Savers in the middle of an interview … (Laughter)
---
Telling Lies for Fun and Profit, Lawrence Block
The sneaky truth about many books of writing advice is that they're not so much guides to how to write well as they are fuzzy teddy bears for writers to cuddle while facing the fear of failure. This collection of essays may be guilty of that. What appeals to me is that Block is not a fancy writer. He churns out books, mostly in series, often under a variety of pseudonyms. His writing advice is about getting the job done and getting an audience, not appealing to high-toned literary critics. The journalism equivalent of the writing for the critics is reporting for the awards, leading to the annual ritual of jamming massive series into the end of the year to qualify for the Pulitzers. It's valuable for journalists to remember that their work only matters if a lot of people pay attention to it. As with Robert McKee's "Story," also on this list, Block believes in basic formulae. And also as with "Story," what matters for journalists is not accepting his formulae as the final word, but seeing them as more alternatives to the moss-covered traditions of our own craft.
Other voice: heidenkind, Truth, Beauty, Freedom & Books. "Block himself says he sometimes contradicts himself (he does), and there are things I find hard to believe or just didn't agree with (no rewriting Block, really?), but agreeing or disagreeing isn't really the point of the book. Nor does Telling Lies for Fun and Profit aspire to teach anyone HOW to write a novel, though Block does offer his own ideas about that. Instead, as Sue Grafton puts it in the introduction, Telling Lies for Fun and Profit is a comfort read for writers–just like any of his fictional characters, Block makes his own experiences relatable and universal. A lot of books about writing only address the difficulties, with the end result of making aspiring writers eager to get a job in a retail or accounting. Block doesn't ignore the difficulties at all, but he does make them seem completely normal and, thus, surmountable."
There are … risks involved in departing from straightforward chronological narration. A major one is confusion. When you play games with the temporal order of things, you run the risk of leaving the reader wondering just what the hell is going on.
---
This Is London, Edward R. Murrow
I was hesitant to include this book — not because the reporting and writing isn't brilliant and worth knowing, but because Murrow's delivery of these words and his use of ambient sound were essential to the power of his World War II reporting. You are strongly encouraged to seek out recordings of his broadcasts online. This book does capture far more of his reporting than is easily available otherwise. And, if nothing else, reading it will whet your appetite for the real thing.
Other voice: D.R., Harvard Crimson. "The remarkable thing about Murrow as a news broadcaster is that he never was a newspaperman. Practically every commentator nowadays is or was a well-known journalist, but Murrow's only news experience has been at a London microphone. Yet Murrow can describe a diplomatic treaty as well as the bombing of London's East Side."
It was like a shuttle service, the way the German planes came up the Thames, the fires acting as a flight path. Often they were above the smoke. The searchlights bored into that black roof, but couldn't penetrate it. They looked like long pillars supporting a black canopy. Suddenly all the lights dashed off and a blackness fell right to the ground.
Find on AbeBooks
---
1001 Afternoons in Chicago, Ben Hecht
Have you seen a movie version of "The Front Page"? That's Ben Hecht (and Charles MacArthur). But before Hecht went to Hollywood, he was a Chicago journalist. "1001 Afternoons" collects 64 of his unusual columns for the Chicago Daily News — slices of city life that have been compared to Charles Dickens' articles on London. Reading these pieces is a good antidote to the illness of meeting-room journalism, in which reporters find their stories through the lens of government rather than on the streets.
Other voice: Richard Rayner, Los Angeles Times. "The young Hecht … was so avid for story he learned not to sleep. And because he saw 'people shot, run over, hanged, burned alive, dead of poison, crumpled by age,' he didn't record those stories like O. Henry. Hecht's style was garish, breezy, lyrical, a mixture of cynicism and sentiment that felt fresh back then and is still pretty irresistible today. He possessed, moreover, the essential gift of any would-be chronicler of urban life: empathy."
Here the city kind of runs over at the heel and flaunts a seven-year-old straw hat. Babylon mooches wearily along with a red nose dreaming in the sun, and Gomorrah leans against an ash can. It is South State Street below Van Buren. The ancient palaces of mirth and wonder blink with dusty lithographs.
---
Towards the End of the Morning, Michael Frayn
It is 1950s London and a newspaper very much like the real Observer (where Frayn worked) is muddling toward the end of an era of British journalism. This novel is placed on a par with Evelyn Waugh's "Scoop" by many English reviewers, but is little known in America (at least if I'm any barometer).
Other voice: Kim Forrester, Reading Matters blog. "While it's a story about journalism and its struggle with changing work practises and the emerging "glitterati" of television broadcasting, it's essentially a comedy of manners. I laughed out loud a lot while reading this one!"
Various members of teh staff emerged from Hand and Ball Passage during the last dark hour of the morning, walked with an air of sober responsibility towards the main entrance, greeted the commissionaire, and vanished upstairs in the lift to telephone their friends and draw their expenses before going out again to have lunch. Furtively among them came a short, rather fat man in a shapeless raincoat and a shapeless tribly hat. … He was the sort of man who calls at newspaper offices carrying sheaves of brown paper on which he has written down messages from God or outer space setting forth plans for the spiritual regeneration of the world.
---
A Treasury of Great Reporting, Louis L. Snyder & Richard B. Morris (eds.)
A doorstop of a book crammed with news stories written or spoken from 1587 to 1948. It's the best source I know of for such a comprehensive recording of how what we now call journalism changed — and stayed the same — over time. Certainly by this point in reading my list you've realized that I believe journalists must immerse themselves in the craft's history; we can't move forward wisely unless we trace the steps of those who came before.
Along the burning banks of the distant Euphrates, between sultry Mesopotamia and the Badiet-esh-Sham, the desolate desert of Syria, are encamped the several thousands of departed Armenians who have escaped the great massacre.
---
24 Days, Rebecca Smith & John Emshwiller
Rebecca Smith and John Emshwiller tell the story of the Enron scandal and how they uncovered it, working for the Wall Street Journal. A very good reporter I know said this book inspired her to become a business journalist, and that's a high enough recommendation for me. Around the time of Enron's collapse, journalists came in for criticism for failing to protect the public from the misdeeds of financial titans, by not uncovering their sins soon enough. I never accepted that. The resources that corporations can put into hiding their shenanigans far outstrip what newsrooms can afford to put into investigating them, and journalists lack subpoena powers and other levers of government regulators and law enforcement. Instead of getting angry when journalists fail to spot problems, the public should be grateful that some of them still have the savvy to sniff out financial sleight-of-hand and can put in the time and effort required to prove it.
Other voice: Holly Hubbard Preston, New York Times. "Smith and Emshwiller, veteran Wall Street Journal reporters, are credited by their publisher — and by a host of less biased observers, including Enron executives and the Securities and Exchange Commission — with first exposing the energy company's failings, in August 2001. The reporters, unlike much of the rest of the market, were not willing to buy the explanation that Enron's chief executive then, Jeffrey Skilling, was resigning for "personal reasons" after less than a year in his post. In their search for a more plausible reason for Skilling's departure, the two journalists unwittingly grabbed a thread that would ultimately unravel the complex and mostly corrupt business dealings previously unknown to all but Enron's inner circle."
Appropriately enough for a company that aspired to be a twenty-four-hour-a-day trading powerhouse in every corner of the world and the far reaches of cyberspace, Enron took advantage of a new electronic filing feature at the New York bankruptcy court and sent in its bankruptcy petition on a Sunday. Smith was home when she got a phone call confirming that the filing had been made, and she quickly turned on her computer to see if she could download a copy of it. Another Sunday fire drill, she thought, wondering how she was going to get what was surely a massive document downloaded on a plain old copper telephone line and wondering if she should go into the office and work from there.
---
Comments