31 Jul 2014
100 books every journalist must read
New Kings of Non-Fiction, Ira Glass (ed.)
It feels a bit like swimming upstream to recommend so many books related to long-form journalism in the age of listicles and clickbait headlines. Maybe, though, that's the point. Only by reminding yourself over and over of the power of the well-written word will you be able to resist the call to abandon it entirely. This collection curated by Ira Glass, founder and host of public radio's "This American Life," provides digestible chunks of work from a fair variety of authors.
Other voice: Whet Moser, Chicago Reader. "Overall, it's a fine anthology, not a bad compromise as these things go. Literary Journalism, edited by Norman Sims and Mark Kramer, is better front-to-back but more conservative; John D'Agata's The New American Essay is riskier but less reliable."
If Colin Duffy and I were to get married, we would have matching superhero notebooks. We would wear shorts, big sneakers, and long, baggy T-shirts depicting famous athletes every single day, even in winter. We would sleep in our clothes. We would both be good at Nintendo Street Figheter II, but Colin would be better than me.
---
The Newspaper Designer's Handbook, Tim Harrower & Julie Elman
I designed my last print pages in the mid-1990s, and the books I relied on for my design guidance seem old-fashioned now. I remember — this was in the early '80s, at the Detroit Free Press — suggesting to my boss that instead of starting each of the six to eight stories on our front page with a few inches of type, we create a centerpiece that was like a magazine cover, pushing the reader inside for the whole story. He just couldn't see how it would work, and — I confess — I wasn't sure what I meant, either. Better designers had similar ideas, and by the end of the '90s circulation declines industrywide had worked the same magic that they used to work for individual papers: They made editors reckless, willing to entertain the notion that doing the same thing over and over might not work. Designers got to design. When I asked my design colleagues what book best speaks to today's print design, they pointed me to Harrower. His book is a thorough look at the field — not just designing particular pages, but drilling down to details such as byline styles and nameplates. He and current co-author Julie Elman provide guidelines for photo editing and infographics and discuss "alternative story forms" — ways to tell a story that break away from the standard 12 inches of text and a cloud of dust. (The example below is from that section. Click it to go to the full PDF on Harrower's site.) The writing is conversational and the book's design itself is lush and inviting. Textbook note: In addition to the regular link for a new copy of the textbook, I've included a link for used (and possibly less expensive) copies.
Other voice: Steve Dorsey, Detroit Free Press. "The Newspaper Designer's Handbook is not just the greatest single source for teaching and learning about publication design, but it continues to evolve with each edition, perfecting and adapting as the industry itself grows and evolves."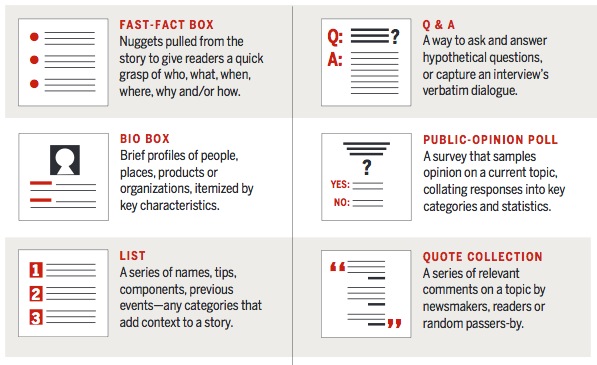 Find in my store | Find on AbeBooks
---
Nickeled and Dimed, Barbara Ehrenreich
Ever since the journalism honorary fraternity Sigma Delta Chi made the horrible mistake of pretending its members were professionals — so, sometime in the '20s — the American version of the craft became infested with stuffy, status quo-protecting notions about what our ethics should be. One particular irritant is the notion that journalists must always declare themselves as such in the midst of their reporting. Bull crap. In "Nickeled and Dimed," Barbara Ehrenreich reports on what life is like for low-wage workers by the obvious but radical tactic of becoming one herself. Read this to understand why in-the-flesh reporting is important; to remind yourself to pay attention to the least of society; and to provide the comforting knowledge, when the job of reporting gets to you, that it could be much worse.
Other voice: Anne Colamosca, BusinessWeek. "Ehrenreich's descent into this underclass life filled her with a burning anger. She rails against a universe in which workers are banned from talking to each other, denied trips to the bathroom, forced to allow management searches of their purses at any time, and kept on their feet–or their knees–for hours on end with few breaks."
I feel oppressed, too, by the mandatory gentility of the Wal-Mart culture. This is ladies' and we are all 'ladies' here, forbidden, by storewide rule, to raise our voices or cuss. Give me a few weeks of this and I'll femme out entirely, my stride will be reduced to a mince, I'll start tucking my head down to one side.
---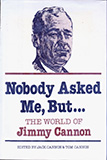 Nobody Asked Me, But …, Jimmy Cannon
The sports sections of newspapers were where creativity went to hide when it was banned from news columns as unrespectable. I've never been sure whether that was because top editors didn't read the sports pages, or because that was the only coverage they read for personal pleasure rather than occupational obligation. In any event, Jimmy Cannon is a classic example of great talent hiding out in sports (although slipping in observations about everything else). The book's title was the lead on those columns where he would punch out one-sentence thoughts on a wide array of topics, a device that has been borrowed by pretty much every columnist old enough to have read him.
Other voice: Dave Anderson, New York Times. "In modern sports writing, there have been two patron saints — Red Smith and Jimmy Cannon."
The stooped old man spoke a private language of insult and a .38 bulged in his hip pocket. The voice was grouchy and harsh. If New York could talk, it would sound like Lou Stillman.
---
One More Time: The Best of Mike Royko, Mike Royko
I will accept no rebuttal: Mike Royko was the best columnist of the 20th century. He was like a symphony musician who could sit first chair with four different instruments: biting humor, bittersweet reminiscence, dogged reporting, sharp satire. If you have not read Royko, you have not seen the mountaintop. "One More Time," published after his death, collects some of his classics. To a sizable portion of the metropolitan area, Royko simply was Chicago, a city that took a perverse pride in its corruption: Citizens reserved the right to complain, but balled their fists should anyone from outside dare to criticize.
Other voice: Jacob Weisberg, Slate. "Reading these gems in the new posthumous selection, One More Time: The Best of Mike Royko, I found myself wondering: Why doesn't anyone write a newspaper column this good anymore? Royko wasn't quite a Twain, or a Mencken, but his writing was distinctive and memorable and in its time the closest thing to lasting literature in a daily paper. Royko could make you laugh and make you think, stir outrage at a heartless bureaucrat, or bring a tear to the eye when he flashed a glimpse of the heart hidden beneath his hard shell."
It was a big day for the punks. … They stood on the sidewalk and swore and spat and shouted at the civil rights people … When a blond kid spewed a mouthful of spit into the interior of a car, his friends pummeled his back as though he had struck a grand-slam home run. And the punk looked proud but humble.
---
Paris Was Yesterday, 1925-1939, Janet Flanner
A collection of items written for The New Yorker as letters from Paris. They are, as the years in the book's title would indicate, about events rapidly fading into lost memories. For modern journalists, the value lies not only in Flanner's powers of observation and skill as a writer, but most of all in her ability to pack short passages with information, wit and analysis. She puts immense faith in her readers to read into her items that which she hasn't written. This is a lesson for every blogger.
Other voice: New York Times. "Proving the current state of under-disciplined journalism, Flanner could polish a multifaceted sentence to crystalline brilliance. Take this, from 1927 on the scandalous influence of Duncan the dancer: 'The clergy, hearing of (though supposedly without ever seeing) her bare calf, denounced it as violently as if it had been golden.' "
Tristan Tzara, founder of the Dada movement, which most people seem to think has something to do with bad taste in modern pictures, has just married the daughter of a rich Swedish industrialist. … He and his wife, on what the French law now probably calls his money, are bulding a huge modernist house in Montmartre. Tzara is a great man of small stature and wears a monocle.
---
The Photographer's Eye, John Szarkowski
I presume that anyone who has made it to a journalism school has, somewhere along the line, been exposed to classic works of English and American literature — and probably will be exposed to more through college classes. That's one reason I winced at the editor whose first recommendations for reading were the Bible and Shakespeare. I agree that those who would use a mode of communication should be aware of what's come before and how the field's conventions evolved, however. And I don't think most would-be journalists have gotten much exposure to the history of photography. I've chosen "The Photographer's Eye" for that purpose — out of a large array of potential choices — because it is relatively concise, focuses more on concepts than chronology, and gives the readers only brief paragraphs of exposition before allowing them to look at photographs and draw their own conclusions. And, also, because: John Szarkowski.
Other voice: Sean O'Hagan, The Guardian, in a profile. "Szarkowski was a good photographer, a great critic and an extraordinary curator. One could argue that he was the single most important force in American post-war photography."
The photographer learned in two ways: first, from a worker's intimate understanding of his tools and materials (if his plate would not record the clouds, he could point his camera down and eliminate the sky); and second he learned from other photographs, which presented themselves in an unending stream.
---
Pictures on a Page, Harold Evans
My edition dates to 1987, and many of the photos in it are even more ancient. It's still valuable because the principles Evans lays out are timeless. He combines practical visual advice with stern admonitions to avoid using photography to mislead.
Other voice: Rick Poynor, Designers & Books. "Evans analyzes a wealth of compelling news pictures and their presentation on the page, providing a masterly lesson in visual history as he guides and informs."
The camera cannot lie; but it can be an accessory to untruth. Political enemies smile at each other for a hundredth of a second and the next day the newspaper reader absorbs the warmth of their friendship.
Find on AbeBooks
---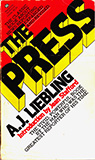 The Press, A.J. Liebling
A.J. Liebling wrote about newspapers for The New Yorker, and no one who's come around since has been close to matching the intelligence and humor of his media criticism. Although the events he covers here are now far in our past, the issues remain startlingly relevant. Consider Liebling's column on "The Great Gouamba." Gouamba, he explains, is the word in some part of Africa for "the inordinate longing and craving of exhausted nature for meat." He uses that as background for the way newspapers went mad about the threat of rising beef prices. Every time I see panicky stories about a 10-cent increase in prices at Starbucks or a threat to the orange crop, I think: "gouamba."
Other voice: Jack Shafer, Slate. "Liebling invented, almost from scratch, the journalistic genre of literary press critic, but because he wrote as well as he did, he seems to have closed the door on the way out. Liebling's literary vision is too vivid to imitate, and it's hard to imagine someone trumping it."
The end-of-a-newspaper story has become one of the commonplaces of our time, and schools of journalism are probably giving courses in how to write one: the gloom-fraught city room, the typewriters hopelessly tapping out stories for the last edition, the members of the staff cleaning out their desks and wondering where the hell they are going to go.
Find on AbeBooks
---
Prisoner without a Name, Cell without a Number, Jacobo Timerman
About the worst punishment a journalist in America gets for practicing journalism is a short stint in jail imposed by a judge trying to pull out the name of a source. Even that is exceedingly rare. For expressing an opinion? No legal penalty. For telling the truth? None. "Prisoner without a Name" will drive home how grateful you should be for that. Jacobo Timerman was grabbed by Argentinian authorities, thrown in jail, stripped of his property, thrown out of the country. This is a book about tyranny and oppression and the evil that lives in men, but it is also a book about courage and principles and the value of journalism.
Other voice: Anthony Lewis, New York Times. "The prisoner is blindfolded, seated in a chair, hands tied behind him. The electric shocks begin. No questions are put to him. But as he moans and jumps with the shocks, the unseen torturers speak insults. Then one shouts a single word, and others take it up: 'Jew … Jew … Jew! … Jew!' As they chant, they clap their hands and laugh.The victim: Was he some unlucky social outcast? No, he was Jacobo Timerman, editor and publisher of a leading Buenos Aires daily newspaper, La Opinion. And in a sense he was lucky. For, unlike 15,000 other Argentinians who were seized by the military over the last five years, he lived. Timerman lived. And he has used that grace to write an extraordinary book about his experience. It is the most gripping and the most important book I have read in a long time: gripping in its human stories, not only of brutality but of courage and love; important because it reminds us how, in our world, the most terrible fantasies may become fact."
They uprooted our telephone lines, took possession of our automobile keys, handcuffed me from behind. They covered my head with a blanket, rode down with me to the basement, removed the blanket, and asked me to point out my automobile. They threw me to the floor in the back of the car, covered me with the blanket, stuck their feet on tope of me, and jammed into me what felt like the butt of a gun.
---
Comments