31 Jul 2014
100 books every journalist must read
The Last Editor, Jim Bellows
Jim Bellows was the last editor of the New York Herald Tribune and one of the last editors of the Washington Star and the Los Angeles Herald-Examiner. This track record might suggest he's not one to listen to about good journalism. On the contrary. The dying days of newspapers are often their best. Either publishers are willing to accept any innovation in a desperate attempt to stay alive (accepting innovations is otherwise against the code of the Publishers Guild) or they have given up any illusion of being popular and powerful and instead let their editors produce actual journalism. Bellows reveled in the opportunities, and he even got into a wilder business after print: online journalism.
Other voice: Carl Sessions Stepp, AJR. "Ego sometimes gets bad press, and it should be said that strong journalists, especially editors, need a healthy dose of it. Bellows, fortunately, has the ego of an impresario, not a nitpicker. Says Jimmy Breslin, a writer Bellows unleashed: 'He would praise and then fight for anything he liked. If the idea wasn't his, he fought even more furiously.' "
We meet Jane Fonda, we set the thing up, and we start our little pitch. I look glowingly at Jane, Bruce, and the machine. I turn it on. The demonstration pops on the screen! It works! … We go on to our next meeting, we plug in the machine — not only does it now work, but smoke comes out of the back. Stories of our demonstrations in this primitive age of the Internet are legion.
Find in my store (Kindle)
---
Let Truth Be the Prejudice, W. Eugene Smith
When I wanted to include an example of classic documentary photography, I went immediately to this book on my shelves. It is both a biography and a portfolio. The photos are richly captioned. The printing is impeccable, and the book is oversized to give them their due. The World War II section begins with a storytelling portrait of a sweaty, dirty-faced GI, half-smoked cigarette clenched in his lips, looking over his shoulder at the camera with weary suspicion. From the pages of Life magazine comes his landmark photostory "Country Doctor," including the doctor, his thin body draped in loose-fitting scrubs, leaning back against a rural kitchen counter with a cup of coffee and a smoke in his hands. The book ends with Smith's photographic Pieta, a mother gently bathing the daughter who was born horribly deformed by mercury poisoning.
Other voice: PBS, "American Masters." "No matter where, what, or whom he was shooting, Smith drove himself relentlessly to create evocative portraits that revealed the essence of his subjects in a way that touched the emotions and conscience of viewers. The works of this brilliant and complicated man remain a plea for the causes of social justice and a testament to the art of photography."
In Life, photographs were only deceptively primary; the real criterion was always the idea: what does this layout say? Their editors … could never give up their ownership of the main idea, of the editorial thrust. … The impossibility that Smith was demanding … was the authority of the author, the creator, and Life would be obliged to accept it wholly, or reject it.
---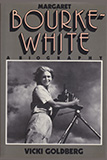 Margaret Bourke-White, Vicki Goldberg
Margaret Bourke-White has been played in movies by Farrah Fawcett and Candace Bergen. At one point Barbra Streisand was set to direct a movie about her. This does not happen to many photojournalists. Bourke-White was famous and glamorous. Neither of those happens to many photojournalists, either. Yet she was a photojournalist — making industry heroic as the first photographer for Fortune magazine and making combat cinematic in World War II and Korea. She got her start in Cleveland, and her photos of the city and its industry make the town look like a place where gods would live.
Other voice: People magazine. "Success was not enough. Bourke-White wanted fame, too, and her single-minded pursuit of both is chronicled with straightforward detail in this candid biography."
Margaret walked into the down-at-heels office [of the PM newspaper] in Brooklyn … wearing well-cut clothes, perfume, and her daily allotment of majesty.
Find on AbeBooks
---
A Mathematician Reads the Newspaper, John Allen Paulos
Once you've read "How to Lie with Statistics" (on the list above), take your supplemental course by turning to John Allen Paulos. Not only does it have updated examples, but Paulos is willing to go beyond formulae to attack wrong-thinking in general. He does it without nastiness, so you will feel embarrassed but not humiliated as you realize that some of the practices he denigrates exist in your own output.
Other voice: Henry Kisor, Chicago Sun-Times. "This admirable little book is only 135 pages long. You can read it in 2 hours. Chances are that they could be among the most enlightening and even profitable 120 minutes you ever spent."
The man-on-the-street-reaction story provides a manifestation, alternately annoying and humorous, of the widespread tendency to present blather and call it news. … Either a greater effort should be made to locate and interview local people with a new slant on the story or else the preface to these reaction pieces should be, 'Here are some abbreviated, quite minor variations on our story recounted by an indiscriminate collection of neighborhood residents.'
---
A Mencken Chrestomathy, H.L. Mencken
H.L. Mencken loved words — big words, old words, obscure words, new words. His book "The American Language" is a classic of popular linguistics. Mencken's attitude toward his fellow human beings and the society he lived in was less enthusiastic. In other words, he was a journalist's journalist. The Chrestomathy — the word means a selection of an author's works — is his own selection of his best work. Mencken's antipathy toward humanity was not an equal-opportunity distaste. His diaries — not to mention any extensive reading of his public writings — reveals his confused thoughts about Jews, his disdain for white people living in poverty and his belief in the inferiority of African-Americans. As with I.F. Stone, also on this list, Mencken remains a must-read despite the revelations because of the impact he had in his lifetime and the way his writing — in his case, his acerbic attitude — influenced others.
Other voice: Jared Taylor, Taki's Magazine. "When Mencken wrote a column calling Arkansas 'the capital of Moronia' and claiming that the people were starving to death through congenital stupidity, the Little Rock legislature voted to censure him. When Mencken was asked to comment, he said, 'I didn't make Arkansas the butt of ridicule. God did it.' "
All that the YMCA's horse and rings really accomplished was to fill me with an ineradicable distaste, not only for Christian endeavor in all its forms, but also for every variety of calisthenics, so that I still begrudge the trifling exertion needs to climb in and out of the bathtub, and hate all sports as rabidly as a person who likes sports hates common sense.
---
Mr. Dooley in Peace and War, Finley Peter Dunne
Dialect — Irish, Jewish, African-American and "hick" in particular — was a common source of humor in American newspapers of the 1800s and the early decades of the 1900s. Most of those old columns are mercifully forgotten. Why does Finley Peter Dunne's Irish bartender Mr. Dooley continue to be worth reading? Because the dialect here is not the joke. Mr. Dooley was a quietly sarcastic commenter on national and world events with a knack for coining phrases. "Comfort the afflicted and afflict the comfortable"? That's Dooley. "Politics ain't beanbag"? Yeah. "The Supreme Court follows the election returns"? Him, again — although, in all cases, originally masked in the quirky spellings of a printed dialect. There are many collections, including some best-of books; pick the one you can find easiest.
Other voice: Mark Shields, CNN. "Thanks go to religious broadcaster Pat Robertson for reminding us, in this presidential year, of the timeless political wisdom of Mr. Dooley. It was Pat Robertson who recently confided to his '700 Club' television audience that he had it on very High Authority that President Bush 'is going to win in a walk' in November: 'I'm hearing from the Lord that it's going to be like a blow-out election.' It's hard to believe that Mr. Dooley did not have the Reverend-emeritus Robertson in mind when he asked a century ago, 'Is there in all the history of human folly a greater fool than a clergyman in politics?' "
' 'Tis as much as a man's life is worth these days,' said Mr. Dooley, 'to have a vote. Looke here,' he continued, diving under the bar and producing a roll of paper. 'Here's th' pitchers iv candydates I pulled down fr'm th' windy [window], an' jus' knowin' they're here makes me that nervous f'r th' contints iv th' cash dhrawer I'm afraid to tur-rn me back f'r a minyit.'
---
Molly Ivins Can't Say That, Can She?, Molly Ivins
I can't deny that the selection of columnists in this list leans to the left. In my defense, the "afflict the comfortable" strain of journalism does seem to attract the best writers, or at least the funniest. Molly Ivins came out of the same Texas liberal tradition that produced John Henry Faulk, a once-blacklisted storyteller who was one of her earliest supporters. She had an unmatched talent for the barbed description: When Patrick Buchanan addressed a GOP convention, Ivins said his talk "probably sounded better in the original German." Of U.S. Rep. James Collins of Texas, she wrote, "If his I.Q. slips any lower, we'll have to water him twice a day." She dubbed George W. Bush "Shrub." Whether you agree with her politics or not, you must admire her writing.
Other voice: Charles Murphy, American Journalism Review. "If you're looking for the absurd in politics, Texas is the place. Ivins discovered it first as editor of the Texas Observer, which followed the statehouse pretty closely. Twenty years later she's still mining that mother lode…. Ivins admits to being a liberal. But unlike so many on the left nowadays, she doesn't get indignant about everything. And liberals take their licks too. On Dukakis: 'This man has got no Elvis. He needs a charisma transplant.' "
Texas is a mosaic of cultures, which overlap in several parts of the state and form layers, with the darker layers on the bottom. The cultures are black, Chicano, Southern, freak, suburban, and shitkicker. (Shitkicker is dominant.) They are all rotten for women. Humanism is not alive and well in Texas. Different colors and types of Texans do not like one another, nor do they pretend to.
---
Muckraking!, Julia & William Serrin (eds.)
Many other lists like this include Ida Tarbell's immense history of Standard Oil Co. or other works of the original investigative reporters, the so-called muckrakers. I cannot in good conscience suggest that you dive so deep into those lead-weighted tomes. Instead, pick up this collection, which draws together reasonably-sized examples from the 1700s to 2000 of "the journalism that changed America," as the subtitle says. The main title is slightly deceptive; this ranges beyond muckraking. However, it is much more selective than the "Treasury of Great Reporting" also on this list, and provides more context for the pieces it includes.
Other voice: Carl Sessions Stepp, AJR. "I regret that the authors almost totally overlook the past decade's groundbreaking computer-assisted investigations. Another problem is that many entries are excerpted rather than printed in full. Perhaps that is inevitable, but it means you lose the sense of the whole and the flow of the writing. Still, the book succeeds in reinforcing faith that the journalist-as-reformer has long been, and still is, a mighty force."
Can you conceive of what it means to work twelve hours a day? Twelve hours every day spent within the mill walls means thirteen or fourteen hours away from the home. … It doesn't leave much chance to play with the children when a man's job requires one week of heavy toil, during ten or eleven hours of daylight, six or seven days, and then an overturning of things and another week of night work, each shift thirteen or fourteen hours long, withthe 'mister' working while the children sleep, and sleeping while they play.
---
My Trade: A Short History of British Journalism, Andrew Marr
Andrew Marr is one of England's top political journalists, with a background in print but decades working for the BBC. Here he explains how he and his colleagues do their jobs — how politicians are persuaded to talk, how news decisions are made. His anecdotes keep the explanations lively. The distinctions between reporting conventions in the UK and the USA are numerous enough to make the American reader feel like she's getting a peek into an alternative universe, while the behavior of politicians is universal enough to allow U.S. reporters to feel right at home.
Other voice: Roy Greenslade, The Guardian. "It is not really an autobiography, though we learn about Marr's career. It is not, thankfully, one of those hand-wringing laments for a mythical golden past. It does contain anecdotes, though they are always relevant to his wider argument. It is not a sermon, but it does raise questions about the ethical morass of modern journalism. At the same time it is often witty, consistently self-deprecating and, most importantly, makes an important contribution to the increasingly bitter debate about the nature of the British media."
Reporters have often been volunteer exiles, people who have left a secure working-class or professional world in order to live a more precarious and interesting life. … Also, I have been fascinated by the number of times in a journalist's autobiography, or in conversation, that fatherlessness comes up. And anyone who reads about or watches journalists' lives must be struck by our unreliability as partners.
---
Naked City, Weegee
In possession of a shiny bachelor's or even master's degree in journalism, some people I know decided that they were too good to be wasted on anything but the most important assignments. What they decided those assignments were might vary — overseas, for some; Washington politics for others; anything as long as the stories were lengthy and took months to report, for yet another group. "Naked City" is the antidote to such delusions. Arthur "Weegee" Fellig, having picked up some knowledge of photography as part of a collection of odd jobs around New York in the 1920s and early '30s, created his own business. He hung out at police headquarters, running after reports of the juiciest crimes, and sold the resulting photos to newspapers. His style was in some ways crude — harsh, close-up flash (he mostly worked at night); very literal compositions. Yet "Naked City," a book of those photos, made him famous, got him assignments for Life and Vogue magazines, even got him involved with movie directors including Stanley Kubrick. It is not the beat that makes for great journalism; it is what the journalist does with it. (Find some examples of his work at the International Center of Photography.)
Other voice: Mary Christian, Grove Art Online via the Museum of Modern Art. "He had little knowledge of, and little interest in, purely artistic photography, and neither his compositions nor his prints were made with particular care in the early part of his career. Weegee's artistic ingenuousness is demonstrated by the one term he adapted from art, 'Rembrandt lighting': by this he referred to the use of a dark background with the subject in bright light; he accomplished tonal selection automatically by the use of flash. This lighting was the key to the striking effect of his photographs: with it, he claimed, he could render a gruesome scene less distasteful, while still providing enough high-contrast detail to help the publisher to sell newspapers, even when reproduced in the dots of newspaper half-tones."
---
Comments