31 Jul 2014
100 books every journalist must read
The Corpse Had a Familiar Face, Edna Buchanan
Edna Buchanan won a Pulitzer Prize for covering crime. It may have helped that she covered crime in Miami during the "Miami Vice" years, but it helped more that she's a determined reporter and an entertaining writer. "The Corpse" is a memoir of murder and mayhem. But Buchanan isn't just in it for the gore; she wants to know the why. She wants to know about the people. Those are the qualities that separate great crime reporters from the ones who churn out stories based on police reports and a chat with whoever answers the phone at headquarters. We're in an age when, for local papers, crime stories are gold because they generate lots of online clicks. Too often, papers settle for the cheapest way to get those — short posts, thin on details, never updated. Read "The Corpse" to see how it's supposed to be done.
Other voice: Gary S. Franklin, Los Angeles Times. "Buchanan's account of death in the Miami area covers almost all the possibilities, and she has apparently covered them all: ranging from unidentified (to this day) bodies floating in a canal; to a hungry drunk at a fast-food chicken outlet, who punched the counter-girl and was shot dead by a security guard; to cab driver murders; to death during the 1972 Eastern Airlines L-1011 crash in the Everglades; to a variety of sex crimes; to the Miami racial riots. Buchanan has seen it all."
Police reporters deal with lives, reputations and careers. So you keep on — ask one more question, knock on one more door, make one last phone call, and then another. It could be the one that counts.
---
Covering the '60s: George Lois, the Esquire Era, George Lois
The Esquire magazine covers of the 1960s were large, bold images — none of this cluttering the cover with multiple cover lines. George Lois preferred to punch the reader in the face with one powerful story. Here's Muhammad Ali, pierced by arrows; Andy Warhold drowning in an opened can of Campbell's tomato soup; the stark white-on-black type "Oh my God — we hit a little girl." The lessons here aren't just for magazine types. When my old paper, The Plain Dealer, got national attention with a stark front page on the departure of LeBron James, I had one thought: That's a George Lois page.
Other voice: Charles McGrath, New York Times. "Many of Mr. Lois's covers were controversial, not so say irreverent or deliberately provocative. The Liston cover [the brutal boxer Sonny Liston as Santa Claus] cost the magazine $750,000 in dropped advertising. But they were immensely successful at drawing attention, on the newsstand especially."
The words are those of an American soldier in Vietnam, as reported by John Sack in a lengthy article about an infantry company, from basic training through combat. This sentence leaped out at me from Sack's description of a search-and-destroy mission. … This cover appeared early in the war, more than two years before the world heard of My Lai … The cover screamed to the world that something was wrong, terribly wrong.
---
The Data Journalism Handbook, Jonathan Gray, Liliana Bounegru & Lucy Chambers
I knew I wanted a book about data-driven reporting on this list, but all my knowledge of the field is based on hands-on experience. So I started searching. My search began and ended with this book. It's an international collaboration with advice from top reporters — and it's free (online). A group of coders from the Chicago Tribune explain how they work in the newsroom to research, add data-driven material to online stories, and build databases for long-term use. Someone from the German site OpenDataCity talks about collaborating with traditional media. Case studies explore data use in covering riots, hospital bills, elections and more.
Other voice: Julian Champkin, Scientific American blogs. "At this stage of the game the handbook is no more than an outline of what can be possible, But that in itself is immensely valuable. And it does have practical guidelines for those who want to join the field."
Data driven projects are cheaper than traditional marketing campaigns. Online news outlets will often invest in things like Search Engine Optimization (SEO) and Search Engine Marketing (SEM). A executed data project will normally generate a lot of clicks and buzz, and may go viral. Publishers will typically pay less for this then trying to generate the same attention by clicks and links through SEM.
Find in my store | Get it free online
---
Dispatches, Michael Herr
Of the many books about the Vietnam war, only one shows up on list after list of the best of journalism. Herr speaks the soldier's language and sees the war through their eyes. Ernie Pyle, in wars gone by, had carefully collected the names of the soldiers he met and worked each into his dispatches so the folks back home would know their sons were alive and well. Herr works their thoughts and fears into "Dispatches" instead. America's wars since Vietnam have become increasingly stage-managed, from a journalist's point of view. There are far more limitations on where reporters can go. And the nature of the fighting forces has changed — no more draftees. Even the nature of war has changed — fewer firefights, more killings by mechanical proxies such as drones and roadside bombs. How much, though, has changed for the men and women in the thick of it like the ones Herr talked to?
Other voice: Wendy Smith, The American Scholar. "Somehow, a young journalist whose previous experience consisted mostly of travel pieces and film criticism managed to transform himself into a wild new kind of war correspondent capable of comprehending a disturbing new kind of war."
Not that you didn't hear some overripe bullshit about it: Hearts and Minds, Peoples of the Republic, tumbling dominoes, maintaining the equilibrium of the Dingdong by containing the ever encroaching Doodah; you could also hear the other, some young soldier speaking in all bloody innocence, saying 'All that's just a load, man. We're here to kill gooks. Period.' Which wasn't at all true of me. I was there to watch.
---
Don't Make Me Think, Revisited, Steve Krug
As I explained in the introduction to this list, I fret that books about how to use technology or software will become outdated in just the time it takes me to type their descriptions. However, Steve Krug's book on web usability comes highly recommended, and it's been updated in 2014, including a chapter on mobile usability. What's usability? It's whether the people who look at your stuff online can figure out how to look at it — where to click or hover to do what. Even if you'll work in a straitjacketed CMS (content management system) that has serious usability flaws, you may be able to find ways to work around them. "Don't Make Me Think" will, at the least, make you want to look for them.
Other voice: Kerry Butters, SitePoint. "This book is ideal for beginners because it doesn't dive into anything overly confusing but is written in clear, simple language that is also peppered with humor. It's highly accessible thanks to the conversational tone that the author takes and there's absolutely nothing intimidating about it."
For as long as I can remember, I've been telling people that ['Don't make me think!'] is my first law of usability. … It means that as far as is humanly possible, when I look at a Web page it should be self-evident. Obvious. Self-explanatory.
---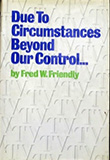 Due to Circumstances Beyond Our Control …, Fred Friendly
Fred Friendly gets two entries on this list (see "The Good Guys, the Bad Guys and the First Amendment"), and I could have kept going, too. He's that good a writer and that smart an observer. "Due to Circumstances" is both his account of his 16 years at CBS in partnership with Edward R. Murrow and an indictment of the network and TV journalism in general. Yes, though Friendly and Murrow are responsible for much of the iconic reporting of TV's early days — "See It Now's" takedown of Sen. Joe McCarthy, the "Harvest of Shame" documentary on migrant workers — they were constantly at war with their corporate bosses. So "Due to Circumstances" not only serves as a history of broadcast news, it also speaks to every journalist who has had to battle number-crunchers, whether those folks are concerned about dollars or clicks.
Other voice: Roscoe L. Barrow, University of Pennsylvania Law Review. "Friendly, in the tradition of Murrow's journalism, appreciated that television is today the most persistent force in shaping the minds of the people and may determine ultimately what kind of people we are. Sensitive to his responsibility as a journalist to fulfill the social need for information on the great issues of our time, and lacking the desired support of his superiors at CBS, Friendly resigned as a matter of conscience. No doubt he hoped that, through his example, network managers might be prompted to give a greater role in making news judgments to broadcasting's Fourth Estate."
Regardless of the accuracy or distortion of Nielsen's projections, they are fed into that vending-machine bureaucracy and are the final arbiter. There are exceptions, but in general the staple diet of television is cued to the taste of those twelve hundred homes. The fact that the popularity of programs is based on a sliding scale makes this barometer no less pernicious.
---
The Elements of Journalism, Bill Kovach & Tom Rosenstiel
No one gets to declare themselves the indisputable arbiters of proper journalism, but Kovach and Rosenstiel have the credentials to stake a claim. This book was a flag stuck into the ground, defending the values of the best traditional newsrooms. There's much that I find good here … but also arguments that continue to fade as time goes by. In particular, the line between journalists and non-journalists is neither as narrow nor as clearly defined as Kovach and Rosenstiel want to think. Also, they want to stake out a distinction between journalism as they wish it to be practiced, and everything else. In doing so, they fence out a lot of what journalists have been doing for more than a century. My objections aside, "The Elements of Journalism" had a lot of journalism's grey eminences nodding in agreement when it came out, so it should be read to understand where the old guard are coming from — a place of thoughtful and sincere beliefs.
Other voice: Stryker McGuire, The Guardian. "The book is best when it analyses what went wrong with all but the best American journalism, and why. Where the book goes off the rails – at least as a document that might appeal to British readers – is when it becomes too American for its own good, succumbing to self-importance and worthiness."
The impartial voice employed by many news organizations, that familiar, supposedly neutral style of newswriting, is not a fundamental principle of journalism. Rather, it is an often helpful device news organizations use to highlight that they are trying to produce something obtained by objective methods. … This neutral voice, without a discipline of verification, creates a veneer covering something hollow. Journalists who select sources to express what is really their own point of view, and then use the neutral voice to make it seem objective, are engaged in a form of deception.
---
(Memoirs of) Extraordinary Popular Delusions and the Madness of Crowds, Charles Mackay
I am willing to stray outside journalism for this choice because every reporter and editor should learn well that the majority is not always right. First published in 1852, Charles Mackay's book remains available because it remains relevant. Mackay recounts various episodes in which masses of people engaged in behaviour that is, seen with a cold eye, irrational. Don't think that happens now? "New Age" charlatans like Deepak Chopra are fawned over; useless "complementary medicine" nostrums are swallowed whole. Flashes in the pan such as collectible Beanie Babies show up in news stories without warnings about how quickly they're likely to fall out of favor. At least journalists no longer seem to swallow the silliness of fortune-tellers and future-tellers, or at least we've moved past believing in them when they do so under the guise of psychic ability (proclaim yourself a trendspotter or futurist, though, and you can predict away without worrying that anyone will hold you to account for past mistakes). Read this book to hone your skepticism, if not cynicism. Combine this with debunking bloggers such as Steven Novella to inoculate yourself against nonsense.
Other voice: Andrew Tobias, in the foreword to the 1980 edition. "As with any true classic, once it is read it is hard to imagine not having known of it — and there is the compulsion to recommend it to others."
At last, however, the more prudent began to see that this [tulip bulb investment] folly could not last for ever. Rich people no longer bought the flowers to keep them intheir gardens, but to sell them again at center per cent profit. It was seen that somebody must lose fearfully in the end. As this conviction spread, prices fell, and never rose again.
Find in my store (Kindle) | Find on Biblio.com
---
Fame and Obscurity, Gay Talese
I won't quibble if you choose another Gay Talese collection, but this early one shows how he came on the scene. Talese is another of the literary journalists, using the techniques of fiction in service of the facts. These writers are so prominent on this list because what they did has lessons far beyond the books and magazine-length articles they produced. Being a journalist in a multimedia world means, as I've said on many occasions, moving up to the big box of 64 crayons with which to tell stories. To make the best use of our new tools, we have to move beyond the conventions of old journalism — whether print or broadcast — and think in new ways. The literary journalists showed the way. Also, they're each a hell of a read.
Other voice: Maria Henson, Nieman Storyboard. "Talese's curiosity fuels his research in such an expansive way that we learn the paradoxical tale of Sinatra the arrogant, tempestuous celebrity and Sinatra the lonesome, sentimental man, a part of whom, Talese writes, 'no matter where he is, is never there.' It required prodigious reporting to write with such confidence a crystalline description that serves as the essence of this piece."
The two blondes, who seemed to be in their middle thirties, were preened and polished, their matured bodies softly molded within tight dark suits. They sat, legs crossed, perched on the high bar stools. They listened to the music. Then one of them pulled out a Kent and Sinatra quickly placed his gold lighter under it and she held his hand, looked at his fingers: they were nubby and raw, and the pinkies protruded, being so stiff from arthritis that he could barely bend them. He was, as usual, immaculately dressed. He wore an oxford-grey suit with a vest, a suit conservatively cut on the outside but trimmed with flamboyant silk within; his shoes, British, seemed to be shined even on the bottom of the soles. He also wore, as everybody seemed to know, a remarkably convincing black hairpiece, one of sixty that he owns, most of them under the care of an inconspicuous little grey-haired lady who, holding his hair in a tiny satchel, follows him around whenever he performs. She earns $400 a week. The most distinguishing thing about Sinatra's face are his eyes, clear blue and alert, eyes that within seconds can go cold with anger, or glow with affection, or, as now, reflect a vague detachment that keeps his friends silent and distant.
---
Fear and Loathing in Las Vegas, Hunter S. Thompson
Hunter S. Thompson created a new category, "gonzo journalism." He had a voice that could not be duplicated (however wretchedly many tried). It's not the kind of voice you'd want to see delivering you the news of the day; his facts are somewhat malleable and everything takes a lurid yellow tone when seen through his jaundiced eye. That's the fun of it, though. I'd recommend several of his books, including "Hell's Angels" and "Fear and Loathing on the Campaign Trail: 1972." I selected the Vegas book for this list simply because it has one of the best lead sentences in journalism history, highlighted below.
Other voice: Crawford Woods, New York Times. "it is an apposite gloss on the more history-laden rock lyrics ('to live outside the law you must be honest') and– Don Quixote in a Chevy–a trendy English teacher's dream, a text for the type who teaches Emily Dickinson and Paul Simon from the same mimeograph sheet. It is, as well, a custom-crafted study of paranoia, a spew from the 1960's and–in all its hysteria, insolence, insult, and rot–a desperate and important book, a wired nightmare, the funniest piece of American prose since 'Naked Lunch.' "
We were somewhere around Barstow on the edge of the desert when the drugs began to take hold.
---
Comments